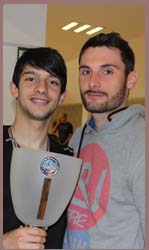 Welcome to the site of Stefano Scandola, 25 times World Champion in various specialties and federations as well as finalist in many international competitions that have taken place in both Europe and America.
Stefano is a Martial Arts and 360° combat sport expert and also an instructor of Karate, Ju Jitsu, Kick Boxing, Self Defence, Weapons use and Musical Form.
Currently Stefano is a member of the competitive group of Team Yokoso in Amsterdam.
MADE TO MEASURE LESSONS
As well as the usual way of learning martial arts in group lessons, it's now possible to develop a complete training programme "made to measure" for you.
Depending on your needs and goals, it's possible to have a private martial arts teacher which will allow you reach you objectives as soon as possible with maximum attention.
Further information about...
RECENT COMPETITIONS
Stefano was invited to participate at the Amerikick Internationals in Philadelphia in March 2014.

Even now he is in preparation for competitions in Netherlands, Great Britain, Germany and Italy which will give him the possibility to participate as a member at nationals in the WKU World Championships in August in London and WTKA/WKA in November at Massa Carrara here in Italy.
Stefano is in continuous preparation thanks to technical refresher courses, work experience and tutorials. The last of which was with the Amerikick World Competition Team Captain Jarrett Leiker for form and with Ross Levine for Kick Boxing, which took place in Coventry (UK) in August 2013. Other important tutorials in the past years have been with Chris Leben, Fabbio Passos, Luca Anacoreta, Burton Richardson and Yamaue Keido.

News & Events
Stefano Scandola participated with Aiki Team at the WKU World Championships in Crete, Greece: 6 Gold medals and 1 Silver.
Stefano Scandola participated at the Unity International Games, Coventry, UK.
Stefano Scandola participated with Aiki Team at the AKA Grand Nationals of Chicago, USA.
Stefano Scandola participated at Amerikick Winter Camp in Kansas City, USA
Official recognition as Master of Karate received from one of the most prestigious schools in America: Amerikick.